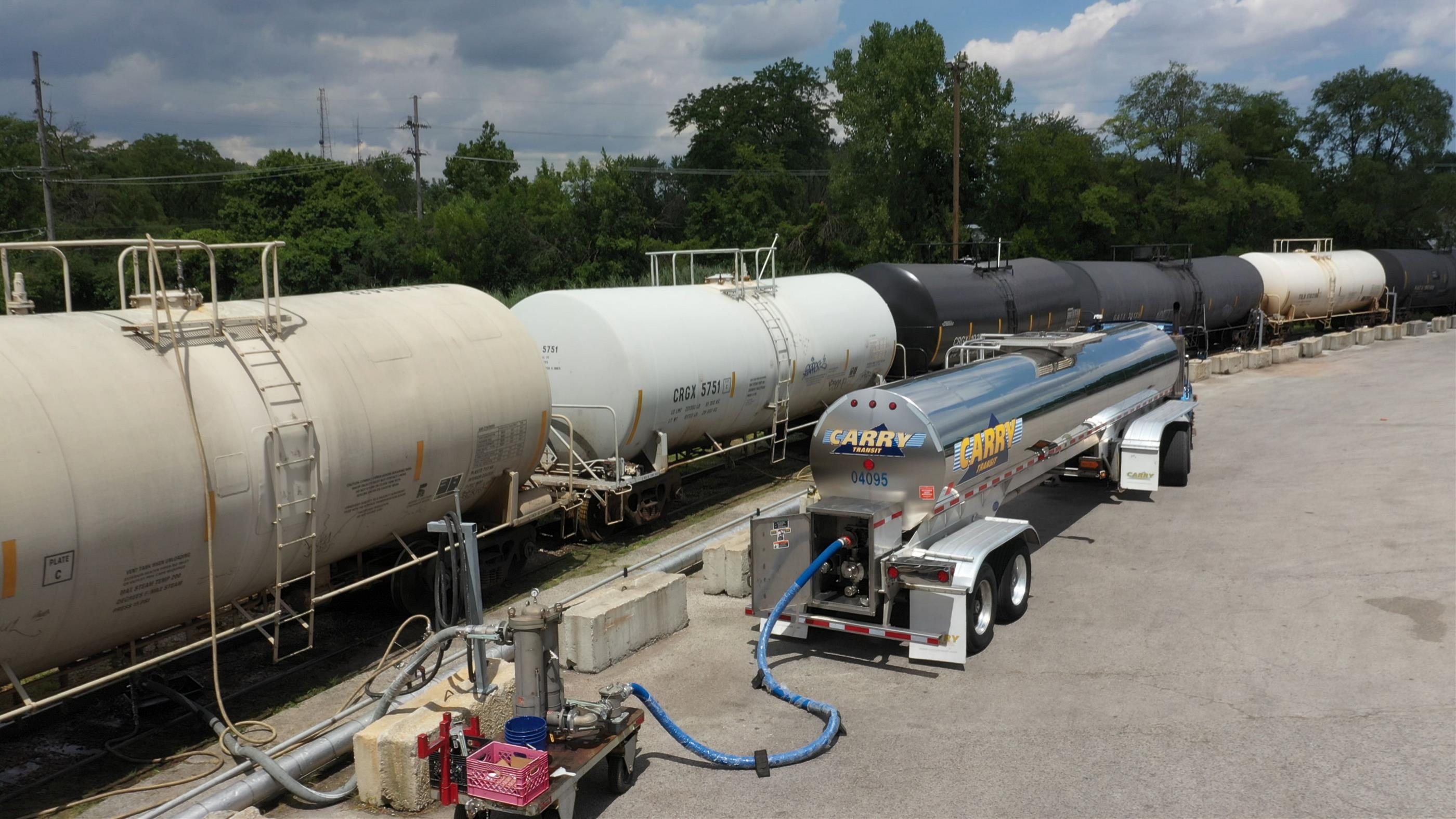 ONE OF NORTH AMERICA'S LARGEST BULK TRANSFER NETWORKS
Heniff's' network of Superflo rail bulk transload sites offers our customers a supply chain solution with multi-modal efficiencies. Our SuperFlo sites transloaded 20,000+ railcars in 2019, providing shippers forward positioned product inventory for quicker customer response as well as the economic benefit of long distance rail transportation with the reliability of final delivery by tank truck.
While we offer broad geographic coverage, if your business is unable to utilize an existing SuperFlo site, or if you prefer a dedicated transloading operation, we'd welcome the opportunity to create a new SuperFlo facility in your area.
CONSIDER THESE FEATURES
Product-specific operation by either Heniff or Carry Transit
Coast-to-coast network of secure transload facilities, including Mexico
Segregated food grade and non-food grade products
Most sites have multiple Class 1 rail interchanges for competitive rail rates
FSSC or ISO 22000 certified and FDA-registered sites for food grade products
ACC Responsible Care® Management System (RCMS-2019) certified sites for chemical products
All US sites operated as "open" for bulk trucking selection
Bonded and grounded track for transloading flammable/combustible products
Product-dedicated liquid pump/meter carts and dry bulk conveyors
Filtered and dried compressed air
Inert gas option for transloading and railcar/truck blanket
Railcar heating
Certified scales for truck weighing
Product blending, sampling and laboratory services
Logistics coordination utilizing customer computer systems, including SAP
Track and trace railcars with our TMS software
| LOCATION | RAIL SERVICE | RAIL INTERCHANGES | OPERATOR | RAILCAR SPOTS | HAZMATS | FOOD GRADE | RAILCAR HEATING | TRUCK SCALE | GROUNDED TRACK |
| --- | --- | --- | --- | --- | --- | --- | --- | --- | --- |
| Mobile (Creola), AL | AGR | CN, NS, CSX, KCS, BNSF | Heniff | 15 | ✓ | ✓ | ✓ | | ✓ |
| Cleburne, TX | FWRR | | Carry | 100 | | ✓ | ✓ | | |
| Mobile, AL | NS | NS | Heniff | 32 | | ✓ | | | ✓ |
| Parker, AZ | ARZC | BNSF | Heniff | 30 | ✓ | | ✓ | ✓ | ✓ |
| Tucson (Benson), AZ | SPSR | UP | Heniff | 10 | ✓ | | ✓ | ✓ | ✓ |
| Port of Stockton, CA #1 | CCT | BNSF/UP | Carry | 100 | | ✓ | ✓ | ✓ | |
| Port of Stockton, CA #2 | CCT | BNSF/UP | Carry | 15 | | ✓ | ✓ | ✓ | |
| Lakeland, FL | CSXT | None | Carry | 32 | | ✓ | ✓ | | |
| Orlando, FL | FCRR | CSXT | Carry | 20 | | ✓ | | ✓ | |
| Chicago (Argo), IL | IHB | All Class 1 | Carry | 30 | | ✓ | | | ✓ |
| Chicago (Bridgeview), IL | IHB | All Class 1 | Carry | 13 | | ✓ | ✓ | ✓ | |
| Chicago, IL | CRL | BNSF, CN, CPR, CSX, KCS, NS, UP | Heniff | 30 | ✓ | | ✓ | | ✓ |
| Chicago (Franklin Park), IL | IHB | All Class 1 | Carry | 21 | | ✓ | | ✓ | |
| Charlotte (Midland), NC | ACWR | CSXT, NS | Heniff | 14 | ✓ | ✓ | ✓ | ✓ | ✓ |
| Oakland, NJ | NYSW | CSXT, NS | Carry | 50 | | ✓ | ✓ | ✓ | |
| Sparta, NJ | NYSW | CSXT, NS | Heniff | 35 | ✓ | ✓ | ✓ | ✓ | ✓ |
| Cincinnati (Clare), OH TBT | NS | None | Heniff | 100 | | ✓ | ✓ | ✓ | |
| Springfield, OH | IORY | BNSF, CN, CP, CSXT, NS, UP | Heniff | 6 | ✓ | | | ✓ | |
| Redmond, OR | COPR | BNSF, UP | Heniff | 13 | ✓ | | ✓ | ✓ | ✓ |
| Memphis, TN | CN | BNSF, CSXT, NS, UP | Carry | 56 | ✓ | ✓ | | ✓ | |
| Dallas (Arlington), TX | BNSF/UP | None | Carry | 100 | | ✓ | ✓ | ✓ | |
| Dallas, TX | DGNO | UP, DGNO | Carry | 40 | | ✓ | ✓ | ✓ | ✓ |
| San Antonio, TX | BNSF | None | Carry | 10 | | ✓ | | | |
| Marion, VA | NS | None | Heniff | 10 | ✓ | | ✓ | | ✓ |
| LOCATION | RAIL SERVICE | RAIL INTERCHANGES | OPERATOR | RAILCAR SPOTS | HAZMATS | FOOD GRADE | RAILCAR HEATING | TRUCK SCALE | GROUNDED TRACK |
| --- | --- | --- | --- | --- | --- | --- | --- | --- | --- |
| Mexico | - | - | - | - | - | - | - | - | - |